The AI features that are currently available in Adobe Illustrator are:
The retype AI feature in Adobe Illustrator can mark a significant breakthrough in graphic design. This feature can analyze a raster image and accurately recognize text elements within it. What truly sets it apart is its ability to identify and determine which specific font was used for each text area within the image. 
This means designers no longer have to struggle to guess or manually search for matching fonts in uneditable images. 
Another cool aspect of the retype feature is its ability to do more than just recognize fonts. It can also transform the text found within an image into live, editable text. 
This functionality opens up a world of possibilities for designers and creatives.
 The process of recreating or editing text elements has now become much easier and much more precise. 
Designers can now easily work with text in static raster images as if they were dealing with regular, editable text layers, thereby enhancing their creative control and streamlining the design process. It's a game-changing capability that simplifies the manipulation of text within images, offering a more dynamic and efficient design experience.
A "text to vector" feature in Adobe Illustrator works somewhat similarly to the various text-to-image AI tools. The tool takes a
textual description
and transforms it into an image. Unlike most current tools, the created image is not a bitmap but a vector-based one. 
What are the advantages of generating vector images?
Types of vector art that can currently be  ai generated in Adobe Illustrator:
Generating Vector Scenes with Text to Vector AI
The scene type in AI text to vector graphic generation can be used to generate different types of backgrounds: 
What are the possible adjustments?
Magical sunrise over Fuji mountain, clouds, sakura flowers
cyberpunk cityscape , highly detailed, wide road, cars, taxi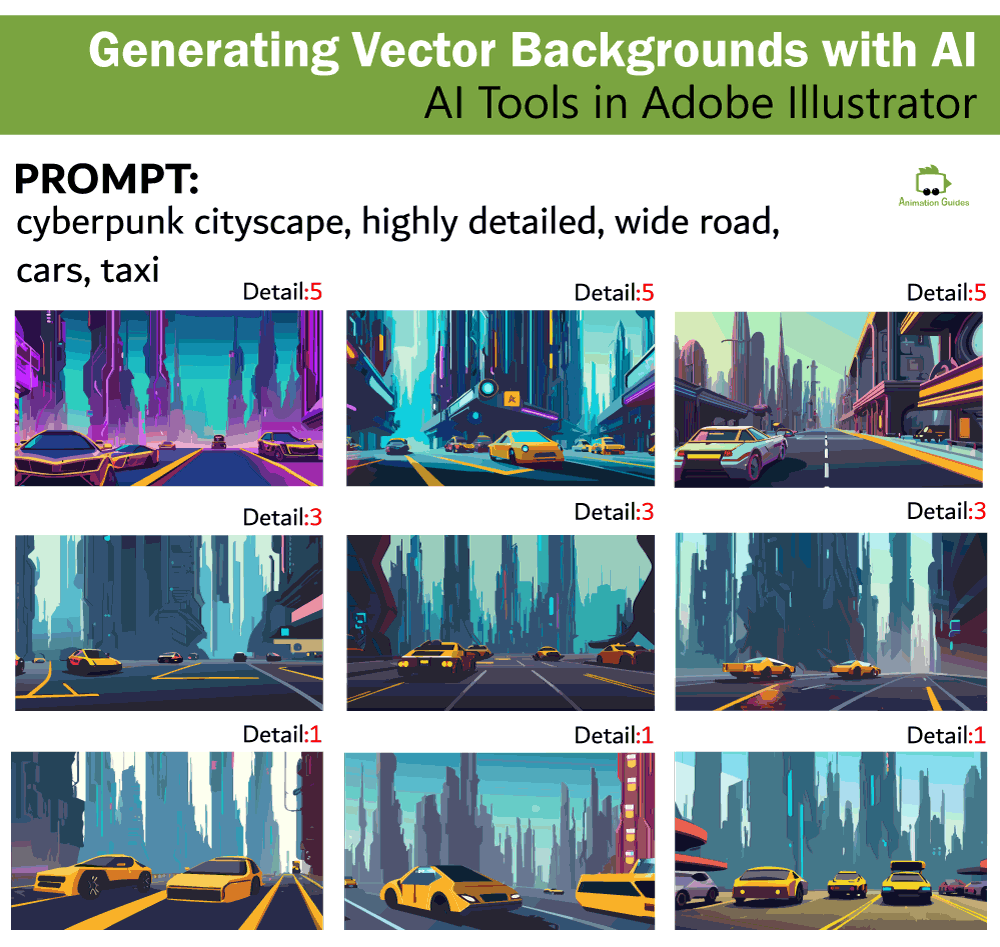 Town / Villages Backgrounds
Interior Scene Backgrounds
modern interior design,living room, with 3 windows, high ceiling, sofa, coffee table, plants
Generating Vector Subject Illustrations and Icons
There are 2 options to generate illustrations without backgrounds. The selected type must be a subject or an icon. Icons will usually give cleaner and less detailed results. When generating a subject, the end result will often include more paths and colors. Although the level of details is also affected by the level of detail selected in the settings.
The settings that can be adjusted for each generation are similar to the ones described for generating the scene type.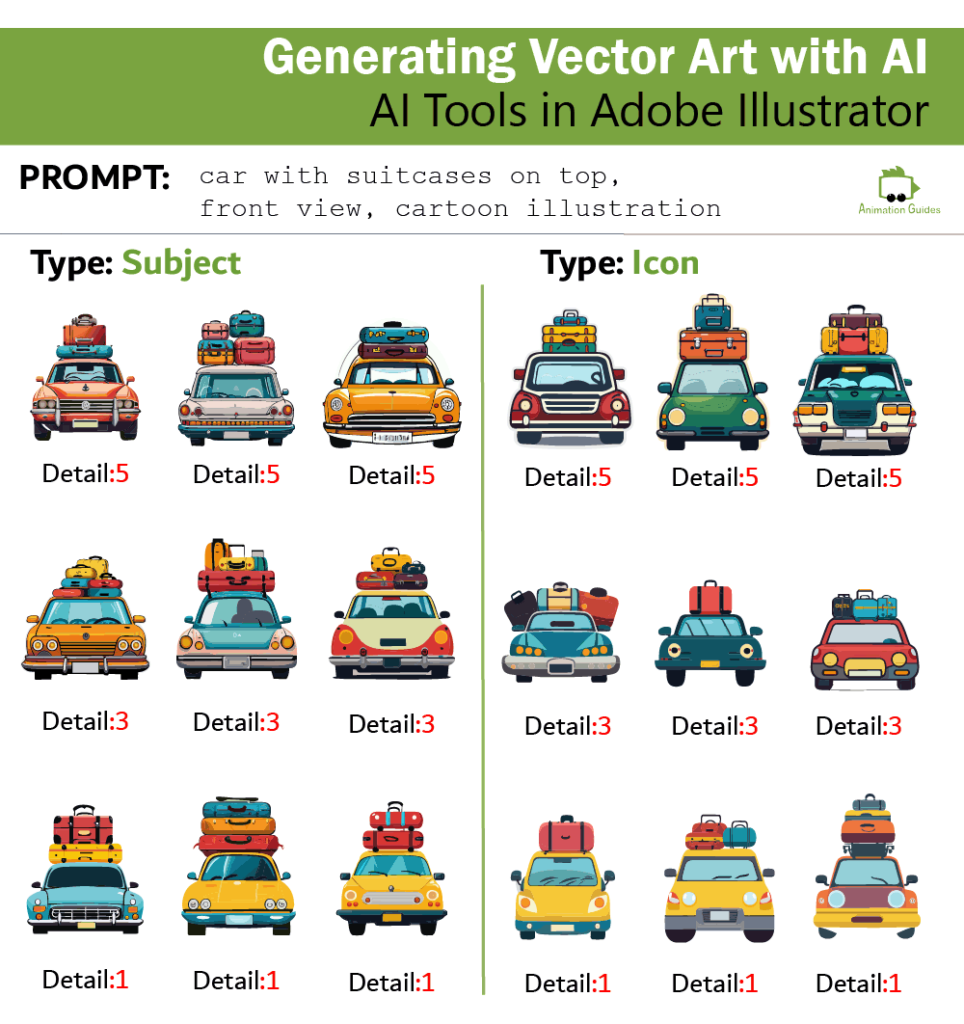 Some prompts will result in very distinct results when switching between icon and subject. Other prompts will result in less significant differences.
Owl Illustration: Icon vs. Subject
colorful illustration of a cute owl sitting on a tree
Butterfly logo: Icon vs. Subject
butterfly logo facing forward
Generating Vector Patterns
Another powerful AI vector generation feature is text to pattern. Patterns are excellent at making various design elements, such as objects and text, look more vibrant and eye-catching. Illustrator offers excellent tools for pattern creation. However, making a detailed seamless pattern manually still takes a significant amount of work and time. With the new text to pattern AI, we can generate instantly various vector patterns. We can edit each of the generated patterns just as any manually created vector pattern can. The different elements on the generated pattern can be edited, resized, recolored, repositioned and more. 
Owl Illustration: Icon vs. Subject
hand drawn doodles, stars, hearts, likes, clouds, sparks, dots
Butterfly logo: Icon vs. Subject
Here is an example of how text to pattern AI feature can be used combined with text to icon AI to create birthday invitation in Adobe Illustrator:
With the help of generative recolor in Adobe Illustrator, we can quickly generate color palettes. The tool takes a textual prompt and creates different color combinations to match it. Then just in a click any of those color palettes can be applied to an existing vector artwork.
This AI feature in Adobe Illustrator enables designers to quickly and intuitively experiment with color schemes.
Adobe Illustrator's AI tools are still in beta, so we haven't fully experienced their true potential yet. The results we've seen already can make our design process faster. Yet, there are some drawbacks to the tool in its current form. Here are a few of them:
The introduction of AI tools by Adobe Illustrator marks a groundbreaking moment for vector artists. The way these AI tools work shows that we might be doing vector art and design in a unique way soon. If these vector AI tools keep getting better than quickly as 
other AI tools
 are, we can expect to be amazed by the generated results very soon. We're in for an exciting journey that may completely transform and revolutionize design workflow.