Free Puppets
Download our free puppets for Adobe Character Animator. You can use our free puppets to test the software or make them a part of your real projects. All of the free puppets come fully rigged, are able to walk, include head turns, facial expressions, lots of hand gestures, prerecorded animation and many other features. Just import those freebies into the software and explore.
---
Attribution is optional, but we sure will appreciate it if you credit us.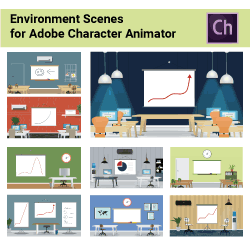 11 premade scenes with separated items: tables, chairs, computers and more. You can customize these scenes or build your own using the items in the project folder.