Download Category:
Puppets
Free and premium puppets for Adobe Character Animator. The puppets are fully rigged, come with different pre-made features: triggers, expressions, gestures, behaviors and more. Just import them into your scene and start animating right away. (You don't have to be an animator! Just try and see how easy it is!)
Attribution is optional, but we sure will appreciate it if you credit us.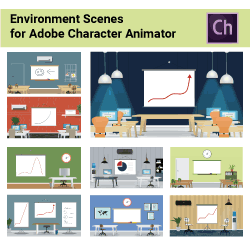 11 premade scenes with separated items: tables, chairs, computers and more. You can customize these scenes or build your own using the items in the project folder.